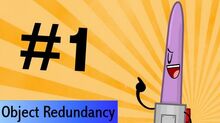 Adult Supervision is the first episode of Object Redundancy. It was released on the 25th of August 2014.
Simplified Plot
Edit
The new totally original object show, Object Redundancy, starts up. Our lovable host Vibrator introduces the 20 contestants. After getting to know each other with some friendships and rivalries created, Vibrator reveals the star prize: Ten Million Dollareedos.
Full Plot
Edit
COMING SOON
This episode marks the first adult themed object show episode.
There are 41 utterances of the words "shit" and "f**k" in this episode.
The "Boo, you stink!" when Tampon told his first joke is a famous line from Spongebob Squarepants.
Vibrator calls Magic Hat "Magic Man" instead. A little caption can be seen scalding Vibrator. Also, Magic Hat being called "Magic Man" is a refrence to Magic Man from Adventure Time!
Also, Magic Hat said the same thing that Magic Man said to Finn at the end of the Adventure Time episode.